Image 3 = 2 in 1
Groundbreaking universal hospital bed with low position
Sentida 7-i
A high-tech universal low nursing bed with a focus on fall prevention, decubitus prophylaxis and mobilization.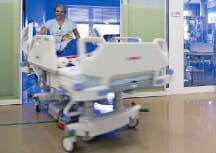 i-Drive Power
New system of motorized patient in-bed transport
Contact
LINET spol. s r.o.
---
---
LINET is the leading supplier of health and nursing care products
LINET spol. s r.o. is a part of LINET Group SE, a leading global supplier of hospital beds. The company's success is based on innovations that help improve the standards of healthcare in more than 100 countries worldwide...